Sometimes you want to keep things light, both in roasting and body! While other coffees might have you feeling heavy, our Single Origin iced coffee is all about lightness, and celebrating the raw potential of the coffee itself. Compared to medium or dark-roasted coffee, Single Origins tend to be more fruit-forward in flavor. You can think of Single Origin like how you think about wine, cheese, and produce having distinct flavors due to their variety, region, and processing methods. Single Origin coffee is a unique and exciting adventure in every sip and brings the thrill of exploring complex flavors of coffee into your everyday. 
Upon arriving at Switters microbrewery in Nashville, TN, our coffee beans get just the right amount of heat to let their natural flavors shine. With every sip, we hope you get the chance to experience the soul of that particular place.
Every cup is an invitation to a flavorful journey! With so many wonderful farms to sample from we eagerly sample and curate small rotating batches through the year. Keep up with the origin of your brew by scanning the QR code on the can or subscribing to our emails. Are you ready to taste the world? ☕🌎✈️
Regular price
Sale price
$22.00
Unit price
per
Sale
Sold out
Share
View full details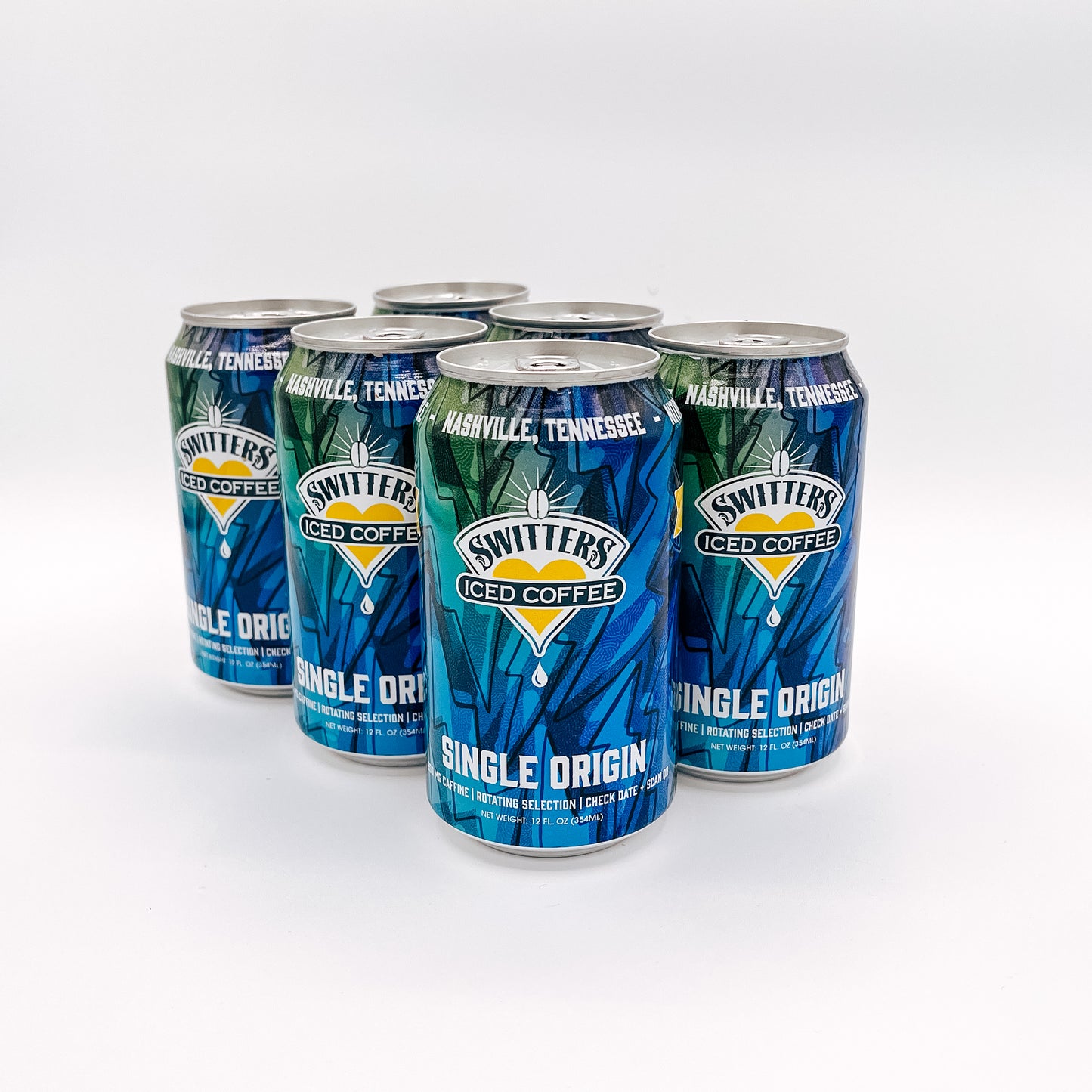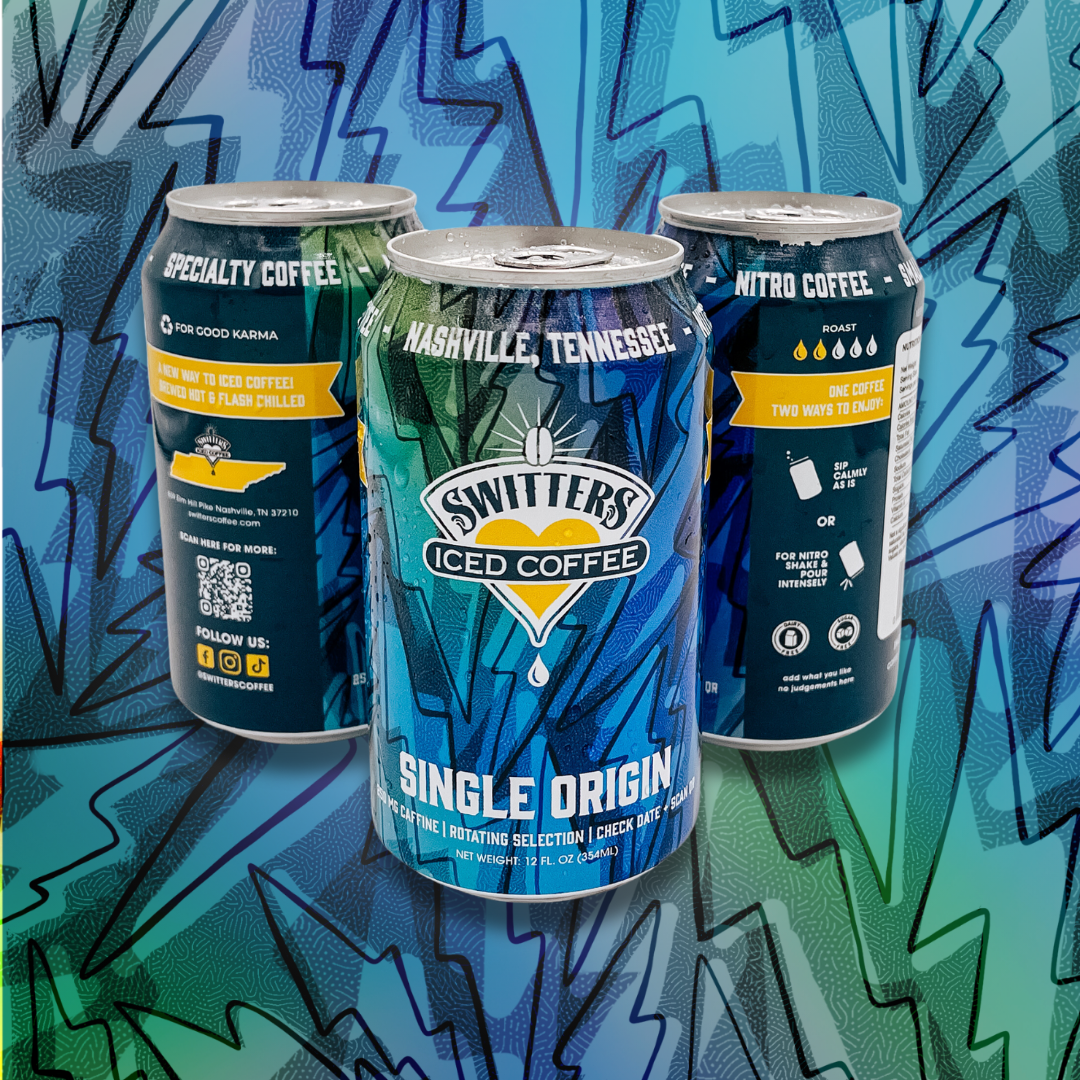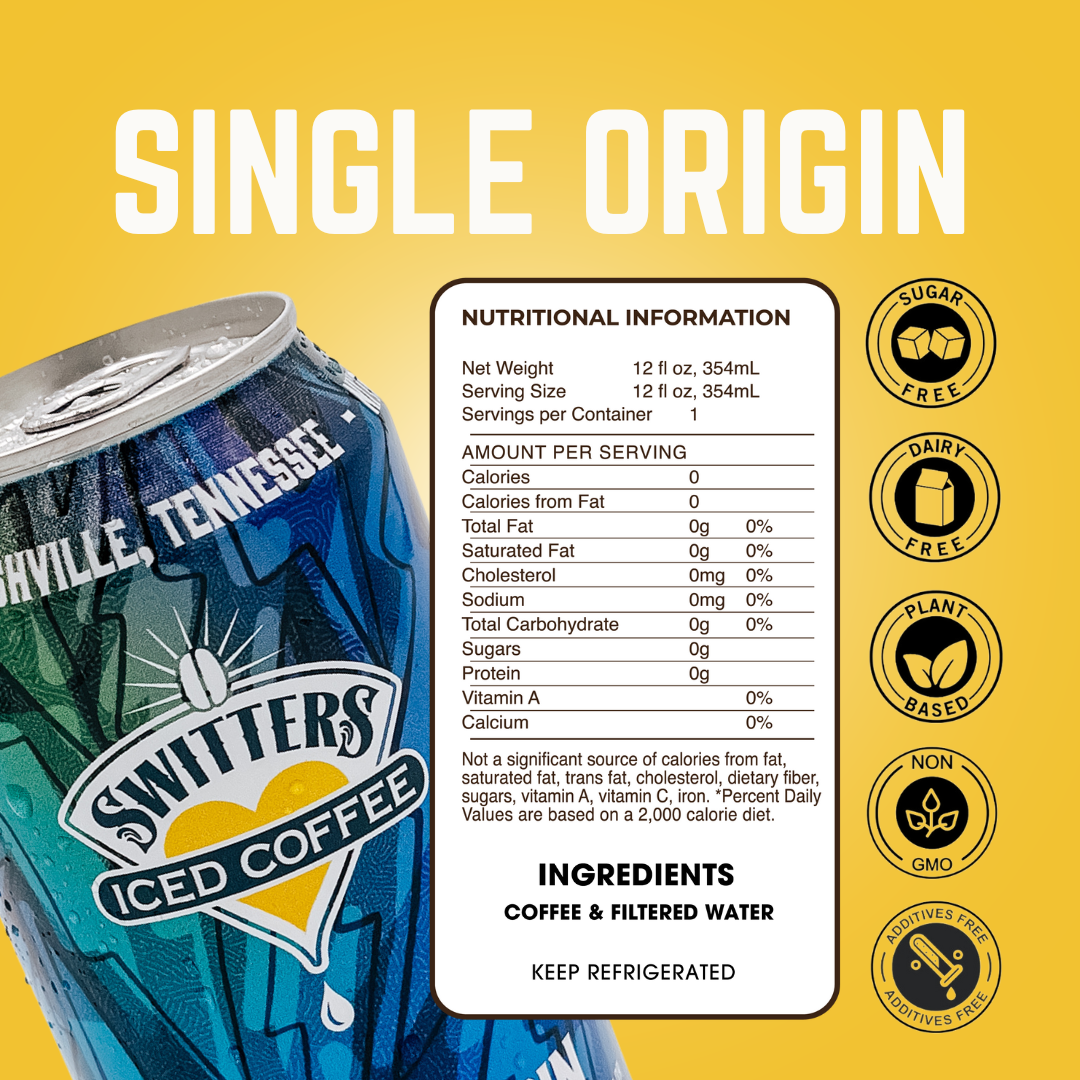 "...It's so much more refreshing than cold-brew and the taste and quality of the beans really shine through..."
Flash Chilled vs. Cold Brew
SPECIALTY COFFEE

All of our coffees start with the highest quality beans and are ethically sourced. We care deeply about communities, farmers and all who process our coffee and we know you do too! So we only purchase coffee from the best sources. This includes the local roasters we have partnerships with. For example, all of our Bongo Java coffees are even fair trade certified.
BREWED HOT

Brewing coffee hot allows us to extract the most flavor from the beans. You know that really amazing pour over you gravitate toward at the coffee shop, that's how we start every batch before flash chilling.
FLASH CHILLED

Fast as lightning, we flash chill the freshly brewed coffee. This step is critical so that the coffee's flavor is preserved at the hight of it's extraction and the "cooking" process is stopped.
FLASH CHILLED VS COLD BREW

The difference is in the name. 

Cold Brew is: brewed cold. Beans are immersed into room temp or cold water and set aside for a period of time. Usually 24 hours. The resulting flavor is often one-note, chocolatey and an unpleasant bitter that is remedied by diluting with water, cream and sugar. If that's your jam, go for it!

Flash chilled coffee is: brewed hot and rapidly cooled. We are able to create a variety of flavor profiles in our iced coffees simply based on what takes place when the source of the coffee cherries, the processing, roasting and possible blending of the beans meets hot water. But you don't always want HOT coffee so flash chilling is our way of playing freeze tag to keep those flavors around. 
GIVING BACK

We continually audit our production and shipping materials to reduce our carbon footprint. We donate our spent coffee grinds to be used in community compost.

Every online purchace results in the rescue of 5 plastic bottles from Earth's oceans.

Please join us in our efforts and recycle your cans or pouches, all pieces and parts are recyclable.

Read more about our sustainability partnerships HERE